Families Moving Forward – Building Resiliency One Family at a Time.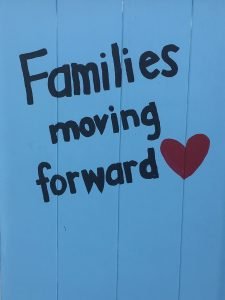 Families Moving Forward each night provides up to 12 parents and children with shelter, meals, a place to play, nap areas, and an environment where they can be safe to focus and pursue opportunities to learn the skills they need for a better life and to become more self-sufficient. Hours of operation are from 1 p.m. to 7 a.m. Monday through Friday and from 2 p.m. to 7 a.m. on the weekends.
The first night in the program, parents and children meet with the shelter's trained, professional staff to perform an intake evaluation that discusses the root cause for their homelessness, any medical and mental health diagnosis, and the family's challenges. Following that meeting, the family will meet once a week with the program coordinator, who provides individualized referrals to relevant agencies for the entire family, as well as for children and parents. To address food insecurity for guest families, Project Hope for the Homeless' guests, including the families at Families Moving Forward, receive a light breakfast each morning at the shelter, a packed lunch for those who need them, and dinner. Children receive nutritious after-school and bedtime snacks. Families Moving Forward staff and volunteers work closely with many different service providers to ensure that each guest, regardless of the situation that caused the homelessness, receives quality care tailored to their individual situations. Parents and children also get the help and referrals to make positive life changes to help them reach their goal of self-sufficiency.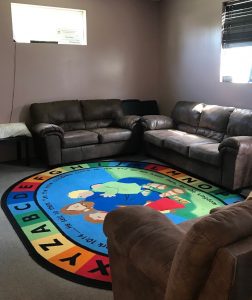 Guests meet weekly with the family program coordinator to set goals that will lead them from homelessness to a better quality of life. During these goal-setting meetings, guests receive referrals to local agencies to get help specific to any underlying issues, and to prepare for a better future. The majority of guests have previously experienced poor nutrition and overall poor health. For this reason, guests can attend programs offered by volunteers, including health and wellness seminars, and basic medical and wellness checks from the nursing students at Lakeland Community College, who volunteer as part of their internship hours. Guests can also obtain referrals for comprehensive medical assessments at the local free clinic and can receive prescription assistance from the local community action agency, Lifeline. The family-focused services offered are designed to help guests make a positive transition.
In 2022, Families Moving Forward achieved the Network's objectives for outcomes that have been developed and implemented over the last several years:
• 100% of our guests will have their basic needs met
• 75% of guests will achieve transition to his/her own housing, treatment, or healthy placement with friends or family upon leaving the shelter a positive housing transition leading them to self-sufficiency and rebuilding resiliency one family at a time
• 20% of all shelter guests, which includes those in Families Moving Forward, will enter aftercare and benefit from assistance with case management, care packages, special events and informational workshops
• Of the 20% entering aftercare, 5% percent will return to serve as leaders in the community