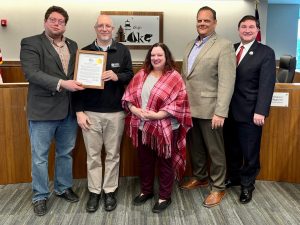 Project Hope for the Homeless has been serving men, women, and children experiencing homelessness since 1993, and has seen amazing stories of hope and transformation.
Located at 25 Freedom Road in Painesville Township, Ohio, we are continuously growing and developing as a community partner and leader, while also working with other agencies to provide the best care possible to shelter guests and other neighbors in need.
From starting as a 16-cot, winter-only shelter, to now having 50 beds and being open year-round, Project Hope for the Homeless staff members and volunteers have learned much along the way.
Through a trained, professional speakers bureau, Project Hope for the Homeless representatives are educated and prepared to share with your church or group more information about the only emergency homeless shelter in Lake County, Ohio.
Topics can range from the shelter's history and growth, to current statistics and information, to getting youth involved. From the youngest children to the children at-heart, Project Hope for the Homeless speakers can provide you with educational and interactive presentations that will open your eyes to the situation facing many neighbors.
To book a speaker, email Community Engagement Director John Hutchison at: communications@projecthopeforthehomeless.org or call 440-354-6417 ext. 105.